SAVVY CHIC is one of the area's BEST BOUTIQUES for smart shoppers for the BIGGEST names, the LATEST styles, and the BEST prices!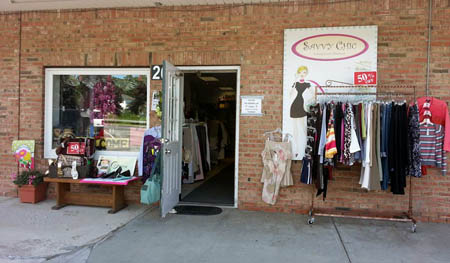 Click here to SEE SAMPLES OF WHAT YOU MIGHT FIND!
26 Ronald Reagan Blvd. Warwick, NY 10990
Hours: Monday - Friday 11am - 6pm, Saturday 11am - 5pm, Closed on Sunday (see mapquest directions)
Savvy Chic Consignment Boutique strives to have the very best merchandise to please our shoppers. We carry fine ladies clothing to include Juniors, Misses, and Plus Size. We carry a large variety of authentic designer hand bags: Coach, Prada, Dooney & Bourke, to name a few, in addition to exceptional shoes and jewelry. We pride ourselves on providing the stylish woman with brand name and designer label clothing and accessories. Our boutique is totally different from the traditional consignment shop you may have experienced. We want you to have the boutique experience, which means a pleasant shopping experience coupled with personal service and the opportunity to take home apparel and accessories that are in style, but most importantly affordable.
We want to be your neighborhood boutique where one can browse and be comfortable shopping along with the convenience of being close to home, Let us provide you with exceptional customer service and provide that personal touch that every shopper hopes to experience. Come by, say hello, and take a look at our boutique!