Two Options:
TEMPORARILY SUSPENDED DUE TO COVID-19 RESTRICTIONS
PRIVATE SHOPPING PARTY #1
GIRL'S NIGHT OUT
Discounts-Sales-Discounts-Sales-Discounts-Sales!
-5 person (adults) minimum
-Private, after-hours shopping. Have the shop all to yourselves!
-Music, Snacks, and Soft drinks are provided. (you may bring white wine at your discretion)
-Your guests receive special discounts on merchandise
-You receive 10% of their net sales in store credit to spend that night or at a later date!
-The more THEY spend, the more YOU get!
PRIVATE SHOPPING PARTY #2
FUNDRAISER
$Donation-$Donation-$Donation-$Donation-$Donation!
-10 person (adults) minimum
-Private after-hours shopping, including our daily sales!
-Your group has the shop all to themselves!
-Music, Snacks, Soft drinks are provided (you may bring white wine at your discretion)
-Your organization receives a donation check for 10% of the net sales.
Testimonials
"I love browsing this shop and go there often. Wonderful presentation of some new and used items . I have found many great finds over the years for a great value and have consigned also. Nice selection of accessories, bags, belts, wallets , shoes, etc. Great place to shop for teens/young adult girls as well . Jo the owner, is wonderful to work with, friendly, courteous and always welcomes you with a smile". - Lisa Wagner / Chester, New York

"Clean, Professional, Great selections, Friendly, Welcoming, Great prices! There is so much to see and take in. This is a shop that is well worth the trip to see! I cannot walk out empty handed". - Susan Morris / Tuxedo Park, New York
"I just found this place and I was shocked I'd never noticed it before. I bought a few items at a great cost. I also brought a ton of stuff in to sell. We will see how that goes and if I make any money - but it wasn't making any money in my closet. So if someone else wants it, I'll be happy. Joanna and the staff were really helpful!!" - Brooke / Vernon, New Jersey
"Absolutely love Savvy Chic Boutique. I'm new to the area and found the place on Google and so glad I went in. Wonderful selection, even teen sizes. Friendly and cozy place. Went looking for some interview clothes and was thrilled to find a pant suit which looked like new. Will definitely be back. Check it out if you get to the area". - Taylor / Monroe, New York
"Wow, this consignment store has some gems!! This is not a junk or "thrift" store, this is a higher end consignment store where items go quickly and they always have new merchandise coming in every day. Whether you are trying to sell some of your own stuff, or need some items to purchase, this place has the ability to do both. It's located in Warwick and has plenty of parking. Prices are completely reasonable and the selection changes often". - Catherine / Goshen, New York
"When walking into Savvy Chic, you feel like you're walking into a fashion boutique instead of a consignment store. The store is neat and clean and it is easy to find what you're looking for, be it size, color, or type of apparel. The staff at Savvy Chic is so friendly and willing to help you find anything you're looking for. A great place to shop"! - F.R. / Warwick, New York
"Everything about this shop is fantastic! I went in to pick up my consignment check and ended up walking out with the BEST accessories for an upscale wedding I was heading out to that weekend. The shoes & clutch were gorgeous and the pearl necklace was a unique design which perfectly dressed up my dresses neckline. The woman helping me could not have been more helpful and she certainly had her hands full with a shop full of customers. I was so appreciative! So if you want high end clothing & accessories, in excellent condition & reasonably priced, make your trip to Savvy Chic. It is so worth it! Thanks again for all your help"! - Beth / Warwick, New York
If you have had a positive experience with our shop and would like your testimonial displayed on our website, please fill out the form below. Your feedback is very much appreciated.
About Savvy Chic Consignment Boutique - Warwick, NY
Welcome To Savvy Chic Consignment Boutique
SAVVY CHIC is one of the area's BEST BOUTIQUES for smart shoppers for the BIGGEST names, the LATEST styles, and the BEST prices!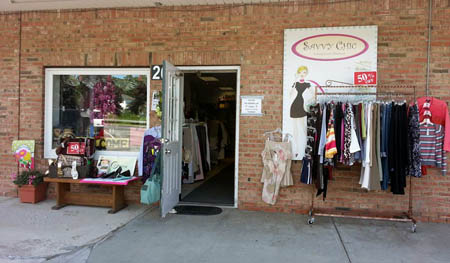 Click here to SEE SAMPLES OF WHAT YOU MIGHT FIND!
26 Ronald Reagan Blvd. Warwick, NY 10990
Hours: Monday - Friday 11am - 6pm, Saturday 11am - 5pm, Closed on Sunday (see mapquest directions)
Savvy Chic Consignment Boutique strives to have the very best merchandise to please our shoppers. We carry fine ladies clothing to include Juniors, Misses, and Plus Size. We carry a large variety of authentic designer hand bags: Coach, Prada, Dooney & Bourke, to name a few, in addition to exceptional shoes and jewelry. We pride ourselves on providing the stylish woman with brand name and designer label clothing and accessories. Our boutique is totally different from the traditional consignment shop you may have experienced. We want you to have the boutique experience, which means a pleasant shopping experience coupled with personal service and the opportunity to take home apparel and accessories that are in style, but most importantly affordable.
We want to be your neighborhood boutique where one can browse and be comfortable shopping along with the convenience of being close to home, Let us provide you with exceptional customer service and provide that personal touch that every shopper hopes to experience. Come by, say hello, and take a look at our boutique!
HOW TO CONSIGN
Something to sell? Selling your beautiful things at Savvy Chic Consignment Boutique is very simple and rewarding.
PLEASE NOTE! Currently, WE ARE ACCEPTING CONSIGNMENT BY APPOINTMENT ONLY. PLEASE CALL US TO MAKE AN APPOINTMENT TO CONSIGN. Once you've decided which pieces you'd like to sell, bring them in and allow us to do the rest. We price and tag your items, and display them on hangers, shelves, or display cases.
Visiting: Savvy Chic is able to accept up to 15 items within a 2 week period per consignor. We will look over each piece for "sale-ability" so please don't be disappointed if some of your items are not accepted for consignment. Savvy Chic will only accept what we feel our clientele will purchase. We are very selective—our reputation depends on it. Before your visit, please examine your items carefully before you bring them in.
Items must be on hangers or neatly folded in paper shopping bags.
NO PLASTIC BAGS, GARBAGE BAGS, GARMENT BAGS
Clothing:
-must be new or in "like new" condition (freshly laundered if not new with tags)
-current in style, within the last 5 years
-free of stains, rips, pet hair, odors, broken zippers, missing buttons
-wrinkle free
Shoes:
-must be new or barely worn
-clean
-showing no wear on upper exposed sections & heels
Handbags:
-clean inside and no stains in lining
-no sign of wear on the exterior
Accessories:
-will be evaluated at the visit.
Consign Seasonally:
SUMMER: January 15-March 31
SPRING: April 1-June 30: Summer
FALL: July 1-September 30
WINTER: October 1-December 31

Percentage: Savvy Chic consignors receive 40% of the final selling price and pay an annual $10 consignor fee.
Payouts: Consignors may pick up a store check or use their credit towards purchases in the shop.
How To Sign Up: Come visit us at the shop to get started:
Merchant Square
26 Ronald Reagan Blvd
Warwick, NY 10990
Phone: (845) 988-CHIC (2442)
Monday: 11am - 5pm
Tuesday: 11am - 5pm
Wednesday: 11am - 5pm
Thursday: 11am - 6pm
Friday: 11am - 5pm
Saturday: 11am - 5pm
Sunday: CLOSED